"Dr. Fine has become a trusted professional and friend to the Godsey family. Be it routine maintenance or major rehabilitation of a shoulder or lower back, we are confident in his skills from diagnosis to completion. His professionalism and expertise have resulted in our total trust in his judgment and approach to his chiropractic practice."
J. Godsey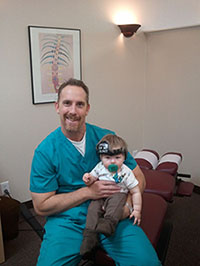 I started bringing my son to Dr. Fine when he was diagnosed with torticollis at 5 months of age. He had a head tilt to the left due to the tight neck muscle from the torticollis. We visited Dr. Fine regularly while waiting for the insurance to approve physical therapy visits. Nearly two months later when the physical therapy was finally approved, the physical therapist, who saw my son when he was first diagnosed, was amazed by the drastic improvement from the chiropractic work. After only a few visits to physical therapy, the the therapist said my son no longer needed the physical therapy because the chiropractor helped so much. The therapist said two things that are also worth noting. She said 90% of the kids with torticollis that she releases from pt still have a slight head tilt, but she could not detect a head tilt in my son at all. She also said that she has never seen a child have such a drastic improvement that fast. She even called to speak to Dr. Fine directly and told me that her profession should be more open to working with good chiropractors. I couldn't agree with her more. My son's pediatrician, the cranial specialist and the physical therapist advised me not to take my son to a chiropractor. I went with my mom's intuition and took my son to see Dr. Fine regularly anyway, and it was the best decision that I made for him. I still take my son to see Dr. Fine regularly even though his torticollis is gone. Thank you Dr. Fine
T. GreenField for Phoenix
I went to Dr. Fine for a sharp pain that I would get in the left side of my lower back area when I would bend over to stretch prior to working out, or if I would lift my right leg up and extend it in a seated position. I may have not used proper form when performing a squat exercise at the gym and hurt my lower back as a result. Dr. Fine adjusted my spine and after a few visits with him, I immediately felt much better. The pain was not as sharp and slowly diminished. Eventually, the pain completely stopped and I felt more flexible. I went to Dr. Fine through a word-of-mouth referral from a friend and I had never been to a chiropractor before. I was very pleased with the results and his treatments relieved my pain. He is an excellent chiropractor and I would highly recommend him to anyone who experiences pain from sports injuries like myself. Thanks Dr. Fine. :)
Name: H. Muradyan
My entire family is being treated by Dr. Fine, and I am so grateful. I initially went for an injury, but I learned first hand of the benefits and have become a regular wellness patient, along with my husband and two sons. I hadn't realized before treatment, that having my nervous system flowing properly really does improve my health and the way I feel. Not only that but my son, who lives with ADHD and is on the autistic spectrum, gets adjusted weekly with great results on his behavior and sleep patterns. My youngest who is 4, was having bedwetting issues - but not anymore! Dr. Fine began seeing him too, and now no more bedwetting! I was truly mystified, and very grateful. Dr. Fine is passionate about his work. And he is a great practitioner. Thanks Doc Fine!
Name: D. Carter

A Motorcycle, poor posture and too much time hunched over a computer are the root causes of my excruciating back and neck pain. I have seen multiple doctors and chiropractors seeking relief, but finding Dr. Kenneth Fine was a Godsend. Beyond being competent and credentialed, I think Kenneth is a gifted Chiropractor. His generous spirit, genuine concern and extraordinary talent make him an outstanding healer. If you have the need to employ his service - do not hesitate. He is worth his weight in gold and you will thank your lucky stars you stumbled into his humble office.
B. Moy
Dr. Fine is a fantastic Chiropractor. I have been going to a Chiropractor since I was 10 years old and Dr. Fine is the best. I have a very physical job that puts wear and tear on my body and I hurt when I get home, but when I see Dr. Fine all the pain goes away and I'm back to 100%. It is a great feeling to be pain free, and that is what Dr. Fine provides. If you need a Chiropractor see Dr. Fine.
J. Sheridan
My time with Dr. Fine has been a joy. When I come in he does magic and makes me feel so much better. I've been coming to Dr. Fine for five years and I'm feeling so much better. If I have a problem, Dr. Fine is always there to help with pain management. I've also learned a lot about my body from him. He is a great Chiropractor.
L. McKinley
I had torn my rotator cuff throwing pitches for my son's little league team. I did not seek treatment for around a year, at which point I only had around 20% range of motion and constant sharp pain. I was in Singapore on tour (I'm a professional musician) when the pain became so bad that I couldn't put my guitar strap on with my right hand or arm. I had to adjust my strap lower for the lack of mobility in the right shoulder.
When I returned, I knew I had to something soon. My wife has mentioned to Dr. Fine about my problem and he said he could help. My alternative was surgery, with no mobility and a long recovery period. I couldn't afford the lost income so I went to see Dr. Fine. We started an intense therapy regimen 3 times a week for 5 weeks. I notices a large improvement after the first session. We work on different areas of my shoulder every session. I'm finished with the five week sessions and have around %80 range of motion. I'm going twice a week for weeks and am confident that I'll regain 95% of my range of motion.
Thank you Dr. Fine for giving me my shoulder back and sparing me from the pain of surgery. Your work has been a blessing.
J. Lum
Are you aching and growing?
As a lady who has had (medical) problems over the years, I can tell you since I have been going to Dr. Fine, I'm lively and full of pep. He keeps my nerves, muscles and bones in good working order.
No need to tell him where you hurt. He finds it and fixes it.
On my birthday June 18th, I'll be 91 years old (or young). I live alone, drive myself and enjoy life.
H Koglin
When I first came to Ken Fine a few weeks ago, I had a pinched nerve in my neck that was causing very bad neck pain, and upper back pain. Before visiting Ken Fine, I had several massage treatments, and I was seeing a chiropractor that did not use manual manipulation. After the treatments, I was still in a great deal of pain and discomfort, and was wondering if I was wasting my time and money.
My best friend referred me to Ken Fine, and I figured it certainly could not hurt to give him a try, because what i was doing before was not helping. Immediately, after meeting Ken on the first visit, I knew I made the right decision because he is so passionate about his work and helping people. Ken suggested that I see him twice a week for the next three weeks because I was in such bad shape. I was very reluctant to take a chance and spend the money on something that may, or may not work because I have been unemployed due to a lay off, and money is tight. I bought a very reasonable package deal, and it was one of the best decisions I have ever made!
I felt immediate relief after my first visit. Relief that lasted! For many, many, years I have been unable to turn my neck all the way to the left due to lots of pain. Today, after my 5th visit, I have full range of motion and can turn my neck to the left absolutely pain free. All my back pain is gone as well. In addition to neck and back pain relief, I used to suffer from a great deal of tension headaches, which I rarely ever get anymore since I have been getting treated by Ken Fine.
I am very committed to regular chiropractic care now because I see what a huge difference it makes when getting the right type of treatments from the right chiropractor. I am so happy, and relieved to have found Ken Fine.
Li. Thierry