About Us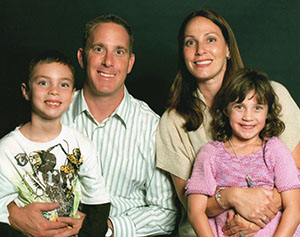 Doctor's name: Kenneth Fine
Graduated from Cleveland Chiropractic College of Los Angeles 1997
San Diego State University '93
Licensed by: California
I have been married for 12 years to my beautiful wife Jill. In those 12 years we have had two children, Ethan and Joelle. Ethan and Joelle have been receiving chiropractic care since the day they were born. They never received ear infections or colds when they were infants. It is my passion to make sure that my family remains healthy through chiropractic care. I hope you do the same for yours.
Client Focus:
Chiropractic Centre of West Hills is very experienced in working with all kinds of people elders, adults, teens, children, infant and sports injuries.
Simply put: chiropractic care, though often overlooked, can not only offer relief from minor aches and pains, it can also contribute toward improving your overall health.
Chiropractic is a holistic approach to health care, which focuses not just on localized symptoms, but considers the whole-body approach to healing. A problem in one part of the body may affect other areas of the body in ways that may not be appreciated when the healer is focusing only on local symptoms.
Dr. Kenneth Fine embraces the holistic philosophy toward healing, and so will employ a comprehensive approach toward diagnosing, treating and healing your illness or injury.
And that's why - for our patients - better health does begin here.
But of course, YOUR better health can't begin here until you are here, so call us today at (818) 704-7211 to arrange for your free consultation.
At the Chiropractic Centre of West Hills your Doctor, Kenneth Fine, is committed to better health and wellness for each patient. Having trained in the most up-to-date chiropractic procedures and techniques used by chiropractors today you can be assured that your health is in good hands. Dr. Kenneth Fine and staff are dedicated to your wellness objectives and overall health. This is what drives them to to deliver the friendliest and most professional service the chiropractic field has to offer in the San Fernando Valley.
Why We Are Different
We believe that your body is a self healing, self regulating mechanism and the Nervous System is the master system. As our Nervous System endures lifes stressors it becomes compromised. Over time this leads to an array of symptom's: (pain, weakness, fatigue, spasm, health issue's, organ malfunction and degeneration). Chiropractic care is the ultimate way to combat life's stressor's. We believe that optimal health is something that is achieved and requires a proactive approach.